Some of the links in this post are affiliate links. This means if you click on the link and purchase the item, I may receive an affiliate commission at no extra cost to you.
Winter packing list for France: France in Western Europe is known for its medieval cities, alpine villages and the Mediterranean beaches. Paris, the capital city and also called the city of love is famed for its classical art museums and fashion houses.
What's more, the rest of the country is also popular for its rich culture and history, renowned wines and sophisticated cuisines. With all this and much more, France has been among the most toured destinations in the world.
Read on to find what to wear in France in Winter.
Pin it 
When to Visit France: Weather and Seasons
France climate is basically formed under the influence of the Atlantic. The country has four climate zones that include Atlantic, continental, alpine, and the Mediterranean. Three of the country's zones generally enjoy cold winters and hot summers except for the Mediterranean.
The Mediterranean usually experiences mild winters and hot summers. To experience the warmth and the sunshine, you will need go to the south of the country.
Spring in France (March, April, and May): Spring in France has a lot of unpredictable weather patterns throughout the three months. March may bring in light showers as well as clear sunny days. April, on the other hand, can be warm with temperature ranging from 13C to 17C / 55 to 63F. May continues to be warm as it gets ready to welcome the summer season. Either way, the night stays quite chilly during the whole season.
Summer in France (June, July, and August): France is packed with tourists in the summer season.  The weather is pleasant with an average temperature of 25C / 77F. In the period between June and August, the weather is warm throughout the country especially the coastal areas. Even the wild animals in the French forests detect the seasons and are most active during summertime. You can therefore take time to visit the numerous national parks or reserves found all over the country in summer.
Fall in France (September, October, and November): In France, summer does not really end on the last days of August. It usually extends to the first weeks of September until 21st when Fall officially starts. The French however consider the season to start when the holiday comes to an end and school reopens. Fortunately, if you are not tied by any job or school, this season is the best time to visit France and especially the southern part of the country. The days can be quiet pleasantly warm with the Mediterranean and the Atlantic Ocean being warm enough for swimming.
Winter in France (December, January, and February): Winter in France is primarily rainy rather than snowy apart from the mountain regions. Along the north and central parts, there are fairly rainy winters and the western areas there is relatively mild winters. In Paris, especially in January, the average temperature reaches to 10C /50F during the daytime and 2C / 35F at night. However, the temperature rarely drops to zero in the three months which still makes the country a magical place to visit in winter.
What to Wear in France in Winter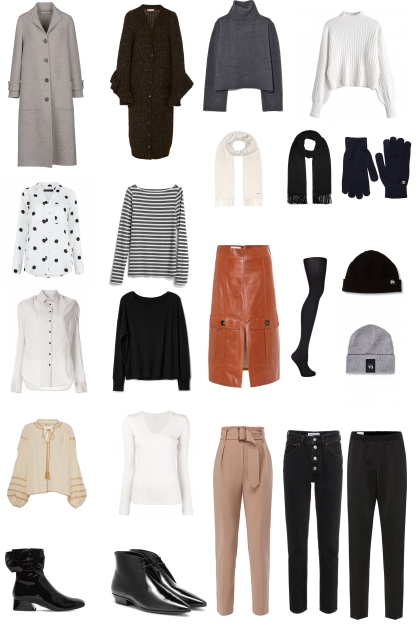 Packing list for France in Winter (see brands here)
How to Dress for Winter in France
1-2 x Jacket/coats: The french wear a lot of neutral colours in winter so aim for browns, creams, greys and blacks.
1- 2 pair of boots: Go for simpler black styles which will match everything, make sure one is warmer or atleast can fit warm socks inside. Pick pairs which you'll be comfortable walking in.
I pair of sneakers: If you take sneakers, take just one pair of boots if you're struggling to fit under the luggage weight limit. Alternatively you can skip sneakers and just take boots if you prefer / don't normally wear sneakers.
1-2 x pairs of gloves:
4-5 x socks:
Tops/ Shirts x 4-7: Think basics -neutral colours, simple shirts, warm long sleeved tees and effortless style.
Sleepwear: Should be warm and comfortable.
1 -2 x Scarfs
6-10 pairs of underwear
3-5 bras
1-2 x Woollen hat/beanie
Leggings or stockings: bring these to wear under skirts. If visiting colder areas of France you'll want to pack warmer pairs.
Trousers x 2-3: Pack an extra pair if you don't have any winter skirts.
Skirt x 1-2: Optional, pick a warmer one if heading to the north.
2 x cardigans or pullovers.
What to Pack for France in Winter: Other Items
Medical
Pain killers – It might be for a stomach ache, headache or any other mild illnesses.
Anti-acid medicine
First aid kit such as bandage, spirit and Elastoplast, disposable gloves etc.
Prescribed medicine– Remember to carry the prescription in case you need a refill or are asked upon at the airport.
Makeup and Toiletries
Toothbrush and toothpaste (travel – sized tube)
Regular makeup kit
Wipes
Tissue paper
Deodorant
Solid shampoo and conditioner
Hair products
Technology
Phone and charger
Digital camera and lenses- The Sony a6500 and 19mm f2.8 lens is one of the best to use.
2 or 3 8GB Memory cards- This will help you out in case one memory card fails or gets lost.
International adapter
Batteries and camera's charger
Portable battery – Used to charge a phone or the camera.
Luggage
Suitcase- Ideal for all travelers since all your stuff will be in one place
Backpack – It's the best to use if you are traveling light.
Belt or Neck Wallet- Meant to keep your documents and credit cards safe.
Everything Else
Two bank cards – It's advisable to carry a Master Card and a Visa since not all businesses in France accept regular credit cards.
Luggage locks for your suitcase or backpack.
Photocopies of your documents such as identity card, passport among other travel documents. Most importantly, ensure you have left some copied documents back at home.
Don't Forget to Pack Travel Insurance | France Packing List for Winter
All visitors traveling to France are highly recommended to obtain travel insurance. However, a good number of visitors, depending on their nationality are not obliged to hold insurance. Regardless of that, it is still essential to have travel insurance in case of anything.
The insurance policy will definitely cover you from any accidents, trip cancellations, damage or loss of property. Since there are many insurance agencies out there, you should take the necessary step and choose the right one for you. Make sure, the policy caters to all your budget and needs. Visit the website here for more details.
Packing List for France: Safety and Health

France is a safe country to visit that major governments including UK, USA Canadian, and Australia have no qualm when their citizens visit the country. And while small towns and the countryside are quite safe, tourists are advised to be cautious especially in large towns and cities.
Keep in mind that most large towns and cities have major tourist attractions making the tourists vulnerable to pickpocketing. Other people to be cautious of are scammers and con-artists mostly found in public places.
When it comes to healthcare, France is known to pay close attention to the health of its citizens and its visitors. Considered to have the best health care system in the world, the government is the main contributor with approximately 77% of health expenditures covered by them. There are two ways the healthcare is financed by the government, through the public health insurance or the private health insurance.
France is no doubt a popular and an amazing tourist destination. Visiting France in the winter season will see you enjoying activities such as skiing in the Alps or visiting the Christmas markets, and more.  All you have to do is pack accordingly and just get ready for a magical winter adventure.